Your Exclusive Private Access to...
The 7 Day Challenge: A 'Test Drive' of Intentional Living
Available to you today at no cost through a special arrangement Dale Henry has with John Maxwell.
Intentional Living
with our friend John C. Maxwell
My friend, mentor, and business partner John C. Maxwell has unveiled two of the most powerful video mentoring programs ever launched based on his new book, "Intentional Living: Choosing a Life that Matters". By being connected with me (a founding partner with John as we launched his international coaching team), you are one of the FIRST, outside of that team, to hear about them. And best of all, you get access to both of them right here totally FREE.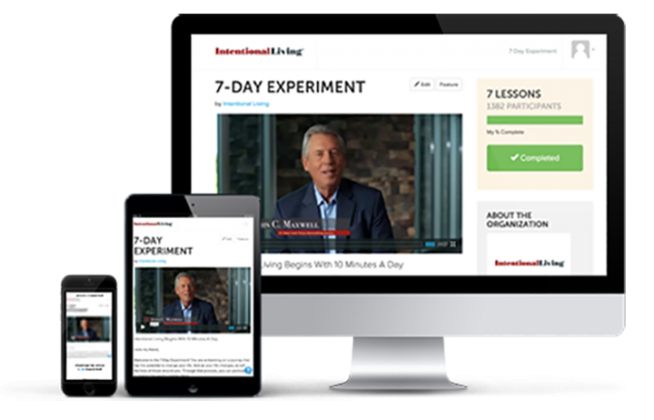 I got to read an advance copy of the book and helped beta test both programs. They are life-changing.  The information in these programs has caused me to carefully re-examine everything I'm doing in my life and intentionally re-focus on only the most important things.
If you're looking to create a life of significance, you won't find another guide as valuable as these with direct mentorship from the number one leadership and personal growth expert in the world.
Welcome!
Intentional Living Begins With Just 10 Minutes A Day
Hello friend,
Welcome to the 7-Day Challenge (a.k.a. the 7 Day Experiment). You are embarking on a journey that has the potential to change your life. And as your life changes, so will the lives of those around you. Through that process, you can participate in making the world a better place. The 7-Day Challenge is designed to give you a taste of significant living. Most days will require less than 10 minutes of your time.
Each day will begin with a short video from John to encourage you and get you started. Then, using the guidebook provided on each of the days, you can reflect and plan how you will make a difference that day. It follows this pattern:
Watch: You'll watch a short video in which John will ask a question to get you thinking about how to make a difference.
Think: You'll spend a few minutes thinking about how the day's idea applies to you and what action you want to take.
Do: You'll figure out how and when you'll take the intentional action described in this section, and then go do it.
After spending just a few minutes a day on reflection and intentional action, you'll begin to see changes in your life and the lives of those around you, transforming your world. It's my hope that this seven-day taste of significance will be just the beginning of a lifelong pursuit for you.
Here's to choosing a life that matters! You journey begins below.
Your friend(s),
Dale Henry (and John Maxwell)
Please note: the www.7dayexperiment.com website that you might notice referenced is no longer active. Also in this version of the 7-Day Experiment social media features and comments have been turned off.
7 Day Challenge |
Day 1
Serve Your Family First
Every family has its own culture. And just about every family has room to improve its dynamic. A great way to do that is to put others first and serve them.
Think about someone in your family or extended family—a parent, child, or significant other—whom you can help to feel special. Plan to make that person the focus of your attention and put him or her first.
7 Day Challenge |
Day 2
Be the First to Help
Think about the people you regularly see in your world: friends, coworkers, neighbors, and hobby-mates. You are probably aware of a goal, difficulty, or need of one of these people.
Think about what you could do today to help that person. If you can be the first to help, it's even better.
7 Day Challenge |
Day 3
Intentional Acts of Kindness
You've probably heard of random acts of kindness. Maybe you've even done them. Most people who do are prompted by emotion in the moment. The problem with serving based on emotion is that you tend to add value to people only when you're in the mood to do it. If you want to change the world, you must be intentional every day.
Think now about taking intentional action that serves a person today.
7 Day Challenge |
Day 4
Partner with a Friend to Make a Difference
Think about needs you have noticed at work, in your neighborhood, or in your community. Choose one to address. It could be cleaning out the garage of an elderly neighbor. Or offering to watch the children of a single mom. Or cleaning a neighborhood spot so kids can play. Or helping a coworker to tackle an unpleasant task.
Now think about someone you know who might be like-minded and want to join you in doing something about it.
7 Day Challenge |
Day 5
Intentional Mealtime Conversation
Today's activity is so simple. Anyone can do it, but it requires a few minutes of forethought.
You simply need to decide on a question that will make people think and prompt great discussion.
7 Day Challenge |
Day 6
Surprise People with How Much They Matter
Has anyone in your life played the same role for you that Mrs. Tacy did for John? If so, how long ago was it? Think about the positive impact that made then, and about how much it still means to you. Brainstorm how you can play a similar role in the life of someone in your world.
7 Day Challenge |
Day 7
Everything You Want in Life Requires Intentionality
Most people have a strong desire to make a difference. Deep inside, we desire significance even more than success. That's especially true as we grow older or gain success. How do you want to positively impact the world? How do you want to continue making a difference?
Now, Are You Ready for More?
Do you believe that your life can be a great story? Are you ready to continue on a journey that will change your life? Now, let's take you on the full 30-Day Journey to living a life of significance.
Click the button below to unlock your FREE 30-Day Journey with John. (Okay, you really just jump over to that [hidden] webpage, but this sounds so much more exciting, doesn't it?)
If you're willing to drop me a quick email to let me know your experience with the 7-Day Challenge I'd love to hear about it. Just email me at dale.henry@criticalinsightgroup.com. If not, just go ahead and enjoy the full 30-Day Journey!