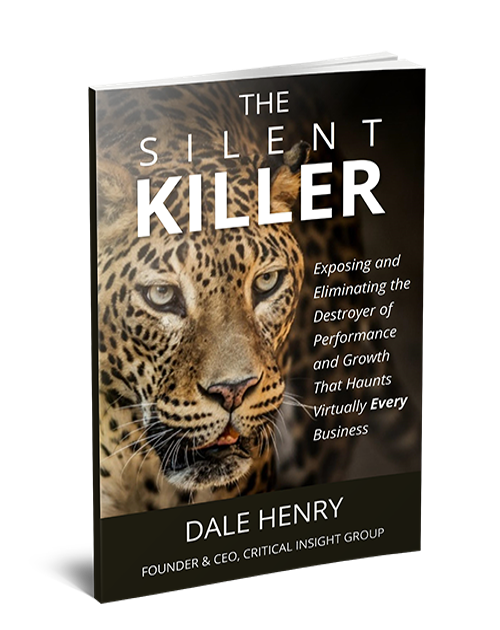 Dale Henry, with his 30+ years as a student, practitioner, advisor, and coach in the principles of exceptional leadership and world-class organizational performance, is known for exposing and eliminating the 'silent killer' of performance and growth that haunts virtual every business.
In this quick, engaging and tremendously valuable read, structured as a 'murder mystery' game, you're taken to the active crime scenes (inside your business) and engaged in identifying the 'silent killer' while building the case that proves how the 'crimes against performance, growth and overall business prosperity' are committed. Through insightful investigation, key clues are discovered and forensically analyzed as the full story becomes clear. Using what he describes as a paint-by-numbers approach, Dale paints a clear and vivid picture of the side of your business you don't see as a busy senior leader and reveals exactly what you're losing because you don't see it.
In the final act, the tremendous costs of these crimes are revealed along with the exact solution to rid your business of this, until now undetected and unchallenged, silent killer of performance and growth.
This eBook is designed to be the most valuable 60 minutes or so you've ever spent on the topic of organizational leadership. Dale's goal is to change how you think about leadership and allow you to profit from an entirely new and more valuable understand of leadership and how it impacts the performance, growth and overall prosperity of your business.