Your Exclusive Private Access to...
Intentional Living (full program)
with our friend John C. Maxwell
The 30 Day Journey to a Life of Significance
Available to you today at no cost through a special arrangement Dale Henry has with John Maxwell.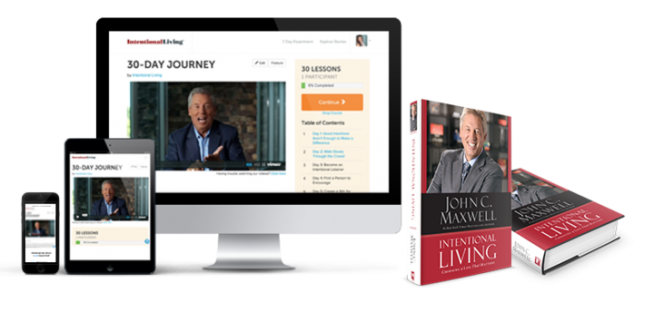 Your 30 Day Journey in "Intentional Living: Choosing a Life that Matters". This is the core of the program that has the potential of moving your life much more intentionally toward the one you truly desire.
As with the 7 Day Challenge, here you get totally FREE access to this full program to take advantage of personally, as a benefit of being connected with me and part of my personal network of business professionals.
Welcome to Your 30 Day Journey to a Life of Significance 
Hello my friend,
Do you believe that your life can be a great story? What if you could weave the individual actions you take each day into a tale of great significance?
I believe that you can, and that is why I'm grateful that you have chosen to join John (and me) on the 30-Day Journey!
You are continuing on a journey that will change your life. And as your life changes, so will the lives of those around you. That's how we start to make the world a better place.
How it works: 
The 30-Day Journey is the training you need to live a life of intentional purpose. Most days will require fewer than ten minutes of your time.
Each day will begin with a short video from John to encourage you and get you started. Then, using this guide, you can reflect and plan how you will make a difference that day. It follows this pattern:
Watch: You'll watch a short video in which John will ask a question to get you thinking about how to make a difference.
Think: You'll spend a few minutes thinking about how the day's idea applies to you and what action you want to take.
Do: You'll figure out how and when you'll take the intentional action described in this section, and then go do it.
Tell: Finally, I want to encourage you to tell a friend or post on social media what you did and how it affected you.
If you did the 7-Day Challenge, then you know that after seven days, you've seen the positive changes that come from intentional living. Through these next 30 days, you will form the habits that will change the way you live the rest of your life.
As a bonus, when you complete the 30-Day Journey, you will receive a free coaching call with me to help you continue your progress.
I can't wait to hear your story!
Your friend(s),
Dale Henry (and John C. Maxwell)
P.S. You may want to bookmark this (hidden) webpage, so it's easier to come back to it over the next 30 days.
30 Day Journey |
Day 1
Good Intentions Aren't Enough to Make a Difference
Take a look at your actions over the last week, month, and year. Has your life been characterized by good intentions, or intentional living? Do you merely desire and intend to pursue your goals, or do you actually follow through and take action? Do you feel sorry for others, or does your compassion drive you to do something about it? We often believe that if we have the heart to make a difference, that's enough. It's not. We need to add to that desire intentional living.
30 Day Journey |
Day 2
Walk Slowly Through the Crowd
Do you truly value people? Do you put others first? If you are indifferent to people, you need to change your attitude. People matter. If you do care about people, but you don't actually show it, that's almost as bad as not caring. You need to think about becoming more intentional about the way you treat people.
30 Day Journey |
Day 3
Become an Intentional Listener
When others are talking to you, do you really listen? Do you make eye contact? Do you stay focused on them and what they are saying? Do you give verbal feedback to let them know you are engaged? Perhaps you could create a visual clue to help you remember to listen. Remember, people do not care how much you know until they know how much you care.
30 Day Journey |
Day 4
Find a Person to Encourage
Does giving compliments come easily to you? Is it in your nature to try to help others believe they can succeed? Or do you find it difficult to encourage others and lift them up? If the latter describes you, make it your goal to change your thinking. What does it take away from you to give encouragement to someone else? As James Keller said, "A candle loses nothing by lighting another candle." When you encourage others, it will leave you feeling encouraged.
30 Day Journey |
Day 5
Create a Win for Somebody
Think about people in your life who really need a win to boost their confidence or help them achieve a breakthrough. Is there one person for whom you could create a win? It doesn't have to be big. It just needs to be theirs.
30 Day Journey |
Day 6
Your First Clue about a Life that Matters
What always makes you emotional? This may be an easy question for you. Or you may find it very difficult to answer. But don't give up on it. The answer will offer you a clue about where you are hard-wired to want to help others.
30 Day Journey |
Day 7
Your Second Clue about a Life that Matters
What always makes you happy? What causes joy to bubble up inside of you from deep within your soul? What activity gives you contentment when you do it? The answer will offer you a clue about where you will experience the most joy when you help others.
30 Day Journey |
Day 8
Your Third Clue about a Life that Matters
What idea excites you? If you could do absolutely anything to help others, improve your community or country, or benefit humankind, what would it be?
30 Day Journey |
Day 9
Know What to Put in Your Calendar First
Look at your calendar from the last week, month and year. How much time did you give your family? Was it enough? Were you intentional with the time you gave your family, or did you simply stay busy?
30 Day Journey |
Day 10
Help Someone Believe in Himself/Herself
Think about someone in your life who would benefit from your belief in him or her. What could you do to demonstrate that belief and help them become more confident about him-or herself?
Show your belief in someone you know by investing time, money, or resources in them today. Often the smallest action will make the biggest difference.
30 Day Journey |
Day 11
Now is Always the Right Time to Make a Difference
What have you seen or heard that made you think, "Somebody ought to do something about that"? Usually, it's something that seems too big for you to tackle. How can you learn from Celine and find something specific enough that you can do yourself?
30 Day Journey |
Day 12
Weigh Risk and Reward When Making a Difference
Do you have a healthy tolerance for risk, or are you risk-averse? Many times what causes us to avoid risk is a lack of confidence. Either we believe we don't have what it takes to achieve something, or we think the obstacles are too great for us to overcome.
Think about how reluctance to take risks might be limiting your ability to make a difference. What opportunity to make a difference might be presenting itself to you that you have dismissed because you are afraid to take the risk?
30 Day Journey |
Day 13
Significance Puts Cooperation Ahead of Competition
Most of us want to win. That competitive nature can serve us, but it can also work against us when it causes us to hurt other people, especially the people most important to us.
Where in your life are you selfishly protecting yourself or fighting for a personal win, when you should be working toward a mutual win?
30 Day Journey |
Day 14
How Opportunity Really Works
What door of opportunity might currently be open to you? It can be big or small—that doesn't matter. Usually, the first door is small, and it may be open only a crack. Your job is to see it, and muster the courage to go through it. That may be only the first step leading to many other doors of opportunity.
30 Day Journey |
Day 15
See the Glass as Half-Full
Examine your mindset when it comes to scarcity and abundance. Do you see the glass of life as half-full or half-empty? Think about how you can embrace abundance more wholeheartedly.
Give away something you value today with the mindset that it's going toward something good, not away from you forever.
30 Day Journey |
Day 16
Create a Memory and Visit it Often
What are your favorite memories during your growing up years? You may have many, or you may have few. But everyone—even a person who grew up under difficult circumstances—has some fond memories. Do you have one? Now here's a question: how do you feel about the other people who were involved in that memory? Odds are high you feel good about them.
30 Day Journey |
Day 17
Find Your Why
Think about what one word best describes you. Then begin to put it together with the other elements that help point to your why:
• Your one word.
• What makes you cry?
• What makes you sing?
• What makes you dream?
Are you beginning to see a pattern? Do you see a direction or a cause or a method of adding value to others? It takes most people time to discover their why. It may take you weeks, months, or years. But be proactive about making your discovery.
30 Day Journey |
Day 18
One is Too Small a Number to Achieve Greatness
Who do you know that shares a similar interest with you for making a difference? Do you know someone who shares your why? Or who is moved by similar causes or needs that you respond to?
30 Day Journey |
Day 19
I Have a Dream
On Day 17 you were asked to write a statement describing your why, as you currently understand it. It was to be based on your one word, as well as what makes you cry, sing, and dream. Keeping all that in mind, think about the needs you see in your neighborhood, your community, or beyond. These are opportunities for you to employ your why to make a difference.
Which one do you find most compelling? If you could only ever address only one, which would it be? That, at least for the time being, is your cause.
30 Day Journey |
Day 20
The Power of Having a Dream
Based on John's teaching, think about your answers to these questions:
• What are you willing to give up to accomplish your dream?
• What insights do you have about your dream that others miss?
• Do you believe in your dream enough to give yourself to it?
• Do you believe your dream is big enough to attract others to it?
• Can you see what it will be like when you accomplish your dream?
30 Day Journey |
Day 21
The Bigger the Dream, the Great the Team
Think about how you want to start sharing your dream. Do you want to write something down the way John did? Do you want to tell a story that embodies and illustrates the vision? Do you want to rehearse an "elevator pitch" – a practiced talk that you would be able to deliver in 30 seconds? There's no right or wrong. Whatever you do just needs to match who you are.
30 Day Journey |
Day 22
Believe Big, but Start Small
Many people may be quick to dismiss Carrie Rich's story as a fluke. It's not. If you get started, resources will start coming to you. You may not receive a check for $1 million, but you will begin getting things you need. Think about the fairy tale ending for your dream story. What would it look like, and how can you get started making it come true?
30 Day Journey |
Day 23
Today is Always the Day to Make a Difference
Have you had a traumatic experience like John's? If so, what kind of impact did it have on your thinking? Did it give you a sense of urgency? If so, do you still have it? Or have you lost it as time passed?
30 Day Journey |
Day 24
Share Your Best
We often take for granted the possessions and opportunities we have. Because they seem normal to us, we underestimate their value. But to a person who has never had the chance to do what you do and have what you have, they may seem spectacular.
Think about what you have that you can give or share with another person who could not otherwise have access to it.
30 Day Journey |
Day 25
Do the Right Thing Simply Because You Believe in It
If there has been a step toward fulfilling your dream to make a difference that you have failed to take because of doubt, take
that step anyway today and allow the results to take care of themselves. The only thing you can control is your own actions. Do the right thing because you believe it is the right thing to do.
30 Day Journey |
Day 26
Get on the Right Track to Significance
Set aside time today to reflect on all of the things you've done during the 30-Day Journey. As activities come to mind, write them down, putting them in one of two lists: actions that resonated and actions that didn't.
30 Day Journey |
Day 27
Invest in Others
Who in your life could benefit from your life experience? Who could you invest in to help reach his or her potential? Think of everyone you know in every area of your life. How could you combine what you are passionate about with a person who can benefit from your experience in that area?
30 Day Journey |
Day 28
Embrace a New Definition of Success
In the past, how have you defined success? In what terms did you describe success: career, money, status? Was the state of your family relationships part of your definition? Think about John's definition. Do you agree that making other gains but losing your family would be a hollow definition of success? What adjustments might you need to make to the way you live your life? How would you write your finish well declaration?
30 Day Journey |
Day 29
Your Pathway to a More Significant Future
You're nearly finished with the 30-Day Journey.
Today and for each of the next ten days, look at your calendar and to-do list for the day and decide: where do I need to be highly intentional? What is the main event I must think through and then follow through to add value to others? Take 10 minutes a day to do something significant. Make this a habit, and it will keep you on track for intentional living.
30 Day Journey |
Day 30
Tell Your Story
You've taken a lot of actions and learned a lot of things about yourself in the last 30 days. What has made the greatest impact on others? What has added the most value? What has left the greatest impression on you? This is the story you need to tell to inspire others to follow in your footsteps and join you in making a difference.
Congratulations! You've Completed the 30 Day Journey.
I'd love to hear your story, what you've learned about yourself, and what you want to accomplish (and how I might be able to help).
If you're interested in having a free 60 minute coaching session with me (a founding partner with John and Master Certified Coach), just complete the Application for Professional Coaching above and mail it to me here (or dale.henry@criticalinsightgroup.com).