Sample Clients and What They Are Saying

We've had the honor over the years of helping improve the performance of over 1.2 million people
in some of the very best companies across North America.
So you'll be in very good company! Here's a list of several of them.
Our clients are smart, passionate, and growth-oriented. They're successful and want to be more successful. 
They care about their people and enjoy reaping the rewards of investing in their professional development.
They turn to us because they know they can be better and trust us to help them reach their full potential.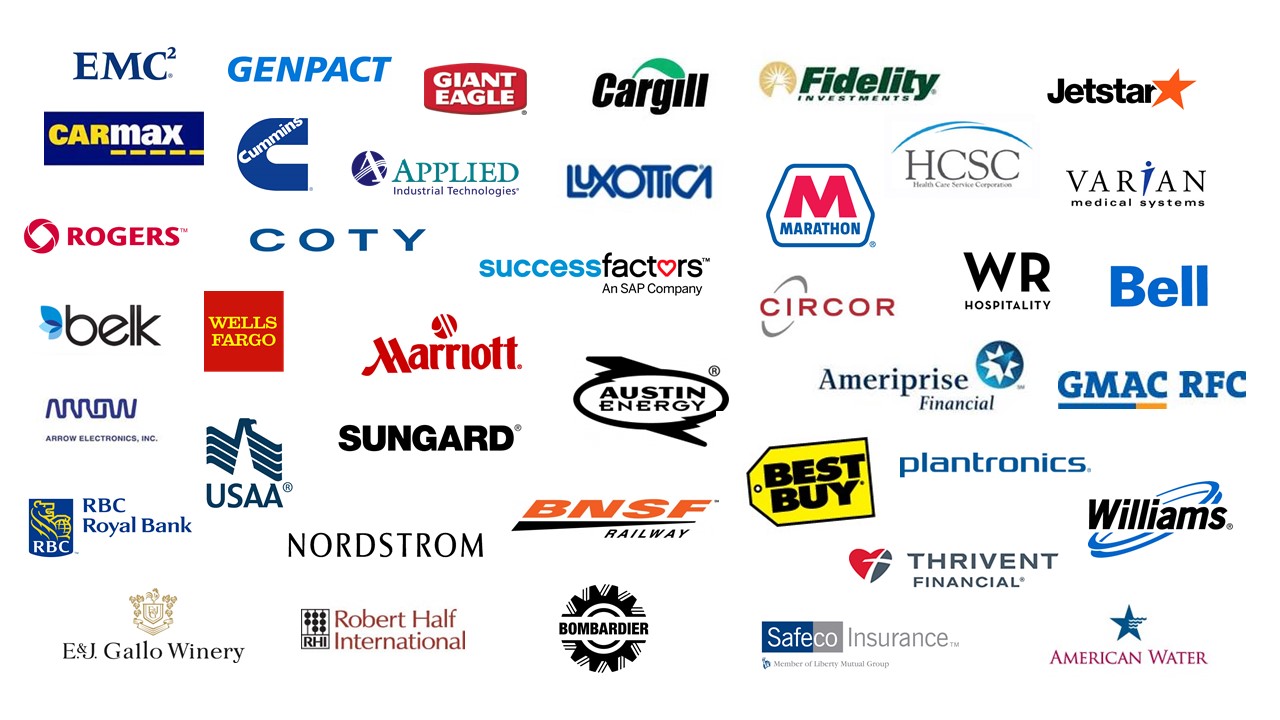 What Our Clients Are Saying…
"Dale Henry was instrumental in opening my eyes to the foundation of leadership. I thought I knew much more about it than I truly did. His insight gave me the compass and the courage to explore a deeper level of leadership. We had several of our leadership team participate in his program and have all gone on to grow in their careers largely because of the world of possibilities that Dale taught and presented to us."
"Wow! I recently completed a four month leadership development program facilitated by Dale using John Maxwell's leadership concepts. Simply put, this was the most effective leadership training I've had during my 30+years in leadership roles. It was a transformational experience that has significantly improved my understanding of leadership and showed practical ways to improve my leadership influence in all aspects of life. Leadership development is a critical skill, but not well understood.
Kacie – Leaders in the Middle of Mid-Market Business
"The course that Dale led discussing John Maxwell leadership model was fabulous. Digging in deep to each law and seeing how it applies to the group allowed the program to be more than just words and ideas. Dale also did a great job showing how it was applicable to each team member. The coordination of the two programs together connected the dots on how to grow yourself and your business. The time commitment was well worth it. Thanks Dale!"
"If you are considering joining Dale to learn about leadership, stop considering and just do it! Dale is a great facilitator. He is humble, but extremely knowledgeable. The insights I learned under Dale's guidance have helped me understand both what's most important to me and opportunities for growth. I'm so glad I'm learning these lessons now, as I begin my career. They will provide a stable base that I will continue to come back to again and again. This is just the beginning!"
Juleen – Strategic CHRO Mid-Sized (EOS) Company
We've Helped Them Grow and Prosper:
[Just click on the category you'd like to find out more about.]
Mid-Sized Companies
It's No Longer Just About Those at the Top.
Leading from the Middle. We understand mid-sized companies just like we understand leaders in the middle of an organization – they both have unique challenges, issues and opportunities, which require unique solutions. How are things different for medium-sized companies? Well, first, you've out-grown the 'hero model' where you could depend on one, or a handful of, leader(s) to keep your company moving forward through heroic personal efforts. Things have gotten too complex. You've grown into the 'era of teams.'
Your performance, growth and ultimate success are now determined by team performance at all levels of the organization. You now need to stop focusing just on the leaders at the top of your organization, and instead on growing the leaders in the middle of your organization. You'll need Great Leaders of Great Teams™ throughout your organization to continue your company's growth.
We all know the #1 driver of employee engagement and team performance is the leadership ability of their direct manager. But we often forget that it's also the 'leaders in the middle' that create the work environment for their team as well as truly determine how your employees experience the company's culture.
If you're ready to create a company culture of leadership and incredible high-performance, we're ready to help you get there. We'll show you how that's all possible. Just click the button below.
If your management team has

between 10 to 20

, you'll want to start preparing for your future growth by adopting our leadership model within your current leadership team.
If your leadership team includes from 20 to 100, you'll want to focus on creating Great Leaders of Great Teams™ by adopting our leadership model throughout your organization.
If you're leadership team is from 100 to 200, you'll also want to learn how to 'cascade and multiply your leaders'. We'll show you how all that works. Just click the button below.
This makes everything easier for me.
I used to just take it upon myself to do the work. I did not trust or believe in a lot of people to be able to do the job. But now, with all of this knowledge that I have gained, I know that development is key to not only my success, or the company's success, but to the entire teams success, and personal well-being. For my entire life this was the complete opposite, I am more than excited to not only grow, but grow and develop others until I feel satisfied with my journey, also known as retirement.
Now, I think about my legacy all the time now.
I feel like I am much more of a positive person. I see myself engaging more than ever in my crew's lives. It's amazing how they seemed to open up to me with my subtle changes.  I focus more on staff morale now than ever and have noticed a big gain in momentum amongst the team. I find myself thinking about the 'change in my pocket' a lot and before I make any major changes I stop to think about how different people will perceive it and try to make sure that I'm always trying my best to communicate what I'm thinking. I think that this has been a great adventure and am thankful for the insight you've given me.  I hope to continue to grow myself and others as leaders well into the future and look forward to all of the challenges that come along with it."
This program has changed my way of thinking tremendously.
When I started this process I always thought to get something done right you do it yourself, and I thought that I was owed something.  Man, was I wrong! I've realized that it's not about what you can get done in a day. It's more about building the team around you to make them better and to make personal progress. My responsibilities now are more employee focused because I realize that someone that holds a prestigious title is nothing without positive employees and creating a healthy work environment. It definitely ignited a fire in me to learn more about the leadership process and humbled me a little bit.
What do you want to do next?
EOS® and Great Leaders of Great Teams™
Two Sides of the Same High-Performance Coin.
So you've adopted EOS® to gain control and focus within your business. Congratulations.
(While we don't implement EOS® for clients, we're BIG fans!) You're probably now feeling less frustration, more under control, and are seeing your results improve. Your implementer has shared all of the EOS® Tools with you, and you want to continue to build on your momentum. Great. So what's next?
That's where we come in. There is a next step for the growth of your business. And it's about changing your focus from gaining control of your business through process and tools, to accelerating your growth by focusing on unleashing the full potential of your people – the most appreciable asset in your business (and one you're already fully paying for, by the way).
When your leadership team is using the EOS® Tools (LMA, RPRS, GWC, People Analyzer, etc.) but you know they can, and should, get even better… It requires being more intentionally focused on your people and their true potential performance and growth. It requires developing the deep connections and influential relationships you need (which instill trust, buy-in, commitment, and respect) to build the momentum, agility, and growth you want today and need for tomorrow. It also requires developing an influential leadership team. No more depending upon just one or two strong leaders; leadership is a team game now.
Just like gaining control required you to adopt the EOS® model, building momentum and accelerating growth requires you to adopt a leadership model from top to bottom within your business. And we've got you covered.
Our Great Leaders of Great Teams™ model provides a proven, practical and straightforward combination of the principles, practices and values of successful leadership; and provides a clear road map for developing leaders throughout your organization.
Opened my horizons on what I am capable of.
I have learned to be more intentional with my daily activities.  I now think about, and treat, people as individuals and not just employees. A big 'aha' moment was when we had our discussion about finding the balance and opportunities to use defeats as areas for growth in turn being a victory.
The change that I have seen from my staff, is night and day.
My thinking on how to lead has changed a lot. Now I realize the more you put into to the individuals that work with you [the more] momentum and success there will be. I have set a goal for myself to continue to grow as a leader by being there for my team members and trying to teach them to become leaders themselves. But the only way is giving to others by developing and helping others to achieve the same goals and success we want with what we do.
The roof has been removed!
This has been a wonderful journey. My staff has noticed a large change in the way that I am approaching things. No longer do they see me as the intimidating bull in the china shop but more of a mentor. The roof has been removed and that is possibly the best step that could have taken as far as potential goes.
What do you want to do next?
Strategic HR
HR's #1 (Most Important) Thing!
HR constantly gets pulled in multiple directions. And when you work is people, things can get complicated very quickly. That's why it's so important to remember: The most important thing, is to keep the most important thing, the most important thing!
Strategic HR's

Most Important Thing

 
is to help
create the Great Leaders of Great Teams™ throughout the organization that your company needs to succeed in today's ever-changing environment
. Why? Because the quality of a company's leaders (at all levels) determines the quality of a company's performance and results.
What our clients are saying…
Don't take our word for it. Listen to what this strategic HR leader in a mid-sized company says about her experience partnering with us.
Think about it.
When are your business partners most productive and happy? When they have 'Great Leaders of Great Teams'™ throughout their ranks. When is your work the easiest and most fulfilling? When the company is filled with Great Leaders of Great Teams™ . So what would be a good idea to have as your top priority? [Fill in answer here.] If you don't believe us, check out this
program
.
That's where we can help. As expert practitioners in helping companies adopt the world's most trusted and respected leadership model from top-to-bottom within their organization, we can help you develop the Great Leaders of Great Teams™ your business so desperately needs (even if they don't quite know how to ask for them).
Learn more about exactly how we can help you become the strategic HR leader your company needs by clicking the 'Learn More' button below. To 'Get Started' being a truly strategic HR leader…well, I'm sure you can guess that one.
What do you want to do next?
Millennial Leaders
Building Tomorrow's Today's Leaders Today.
Future leaders…bench strength…are you kidding me?
Millennial leaders don't want to sit around on the bench; and you need them in the game right now!
Since when did anyone ever limit the number of strong, effective, truly influential leaders you could have in your business?
We've had the privilege of working with a lot of organizations. (Check out the list below.) Each of them having their own unique set of questions, needs, and conditions. However, all of them have had one thing in common. They needed more and better leaders! Not once has anyone in an organization said, "We have too many leaders. And the ones we have are better than we want. Can you help us get rid of some?"
What Millennials do want is coaching, mentoring, and the opportunity to be part of a high-performing, passionate, and inspirational team of leaders that's making a difference in the world. (Would it be 'okay', if they did that for you?) Our program helps develop your leaders' influence and effectiveness from anywhere in the organization.  Or you could just keep paying the price of them walking out the door.
Let us help you get them the leadership development that they so desperately desire so they can give you the incredible performance and results you so desperately desire. And a huge part of making that happen is adopting a common leadership model throughout your organization. We'll help you develop the Great Leaders of Great Teams™ you need now to address the challenges and opportunities that are right in front of you, as well as those you haven't even seen yet. Imagine having a company full of strong, effective, truly influential leaders that knew exactly how to build incredibility high-performing team.
OMG. Could you, like, even stand it?
What our clients are saying…
Hear what a millennial in the middle of a mid-market company thinks our leadership development program did for her. Notice the changes she made and how it impacted her team. We can do this for each leader within your organization, regardless of level.
What do you want to do next?
Are you ready
to release the potential hidden within each member of your team (that you're already paying for)?   How could it change the results of your organization if every one of your employees were better able to
solve problems, attack challenges, and pursue the opportunities
that they come across everyday?
Let's find out.